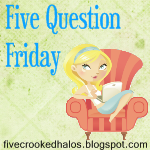 1.
If you could, would you go back to high school?
Heck NO!!!!


2. If a genie appeared and granted you two wishes, what would they be? (And, no saying "more wishes".)
A promise of a Healthy, happy life... and to be instantly out of debt!


3. What kids show do you secretly like?
Wizards of Waverly Place


4. What is your beverage of choice?
Tough one, but recently Dr. Pepper


5. What is something that you would change about yourself (or are working to change in yourself)?
My health, it's an ever changing thing for me and a struggle all the time
Sound like fun? Wanna play along? Head over to My Little Life and link up!