This week I am playing along with Mama M.s Five Question Friday. One of the upsides of doing Blog Designz is that I get to find out about all these great memes. It's pretty simple if you want to play along, answer these questions, go back to
My Little Life
, and link up!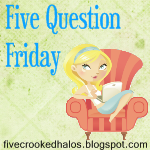 1.
What was the first car you owned?
1991 Toyota Camry - Still was my fav car ever... I miss it to this day!
2. What song are you embarrassed to know the lyrics to?
Mmmmm Bop by Hanson, well Kinda... I love Hanson - oh well!
3. Have you ever had stitches?
Only three times before I was 3 years old... kinda a clutz here!
4. What was your first job?
I worked odd end jobs with my dad painting the outsides of office buildings and what not for $5.50 and hour when I was 14
5. Who is your favorite Sesame Street character?
ummmmm, I didn't really like Sesame Street - but I think my sis did... maybe?????
Okay, there they are...play along, it's super fun... and go link up!