It's never too late for you newbiez, just scribble up a post about all the great things that happened over the week. Big or small, whatever made you smile. Be sure to sign Mr. Linky so that others can come and read your post, and to
link back
to The Neuff so that your readers will know you were participating!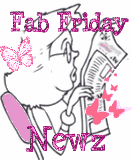 Bit of good Newz Numero Uno, my mom called me yesterday and said that she and my sister want to either pay for a plane ticket or my gas to go visit them for Christmas!!!!! YES! This is fabulous newz. I hate thinking of being without them at Christmas. I've only ever done that once before, and it was horrible. Whit still hasn't made up his mind on his he is coming. I guess it will depend on this..


Second bit of good newz, mom wil be here this month. Can you tell I love my family? I am so anxious for her to get here and spend some time with Whit and I. And Missy! This is my NEW family, and I want to mix them. It's hard because mom and sis are sooo far. I mean mom remembers Whit from HS and Junior High, but it's not really the same. I just can't wait until it's all jelled and real FAMILY style. Does that even make sense?

Third bit of good newz, I am designing a new bloggy design for a fave bloggy friend of mine. It's all done on my end, just needs to be approved and made sure there needs to be no more final tweaks or adjustments. It was so fun creating this design for her. I will let you know when it's all finished so you can take a look.

Another bit of fab newz, ummm thanksgiving is this month! herlow... so stoked about that. I get all in the cooking spirit, wanting to make all sorts of goodies. So I made some homemade chicken and noodle soup. Nope, no recipe... I just guessed! It was delish! But that is cause I made homemade noodles instead of using store bought noodles. Yummm, it makes it soooo, homey. Is that descriptive enough? lol But what about you, what tiny joys make your world go round?

What's Your Fab Friday Newz?