It's never too late for you newbiez, just scribble up a post about all the great things that happened over the week. Big or small, whatever made you smile. Be sure to sign Mr. Linky so that others can come and read your post, and to
link back
to The Neuff so that your readers will know you were participating!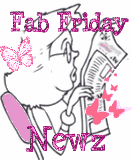 It's Fab Friday Newz time! I am so happy to be going to see my family for Christmas. Whit and I work up at 2:15 this morning, and he took me over to grandpas house. He and his wife to me to the airport bright and early this morn. I got there at 5:25,and waited for like ages for the airline to open up and start checking people in. DONE! Then I went a got myself a lil hot chocolate, Starbucks style. (salted caramel signature hot chocolate to be exact) Then I installed a new design for a Bloggy Blog Designz customer and before I new it, it was already time for my flight to board. So I headed on down to the terminal, and wouldn't you know it… the line of death was staring me straight in the face… singing "neener neener, you shouldn't have had that hot chocolate." But I made it through security on time and was like one of the last ones to board the plane, which totally sucked cause I was in group A to board. So I should have been on eof the first people on the plane. Oh well, I still got a decent seat. I am in row 6, aisle seat (a must) I am typing while flying, and in high anticipation I might add!
\You see I get to see my sis and her family onle once a year… and for someone like me, that's really not enough! So I soak in these trips, and try to make them last as long as possible. Last year I went for 3 weeks, this year it will only be ten days. But being that I am away from Whit, 10 days is going to be hard enough. It's a total catch 22. I miss him already!
Luckily I am going to be able to be in Denver for some big events. Today is my eldest nieces birthday. She is a real trip. She is 13, going on 25 and acts every bit of it. We have really bonded in the last year and we are both really looking forward to seeing one another. My youngest neice also will be having a birthday while I am there. She is turning 8, and will be baptized while I am there! I am really looking forward to that. She an I have always been really close. I used to live with my sister a few years back, and my niece was sick with RSV when she was a baby. I used to babysit her, and I believe she still remembers it. For some reason we have just always been real close. Not to mention she is a hoot! My sister told me the other day that she will be receive an award tonight for her karate. So I am excited for that too, hopefully she doesn't try any of that funny business on me
My oldest nephew is 11, and I am looking forward to spending a little time getting to know him this Christmas. He is an all star athlete I hear!!! He played football this year and will be playing baseball next year. And then there is the baby, he and I ALMOST share the same birthday, just one day off. My sister tried for my birthday she told me, but he was too stubborn I guess. This kid is a crack up, a ham I say. He says the darndest things and I can't wait to hear his super infection laugh.
Sis, she and I have our ups and downs when we get together. But I am shooting for no drama this year! LOL I guess it happens with most families, and a lot of years we make it without any crap, So I think it will be manageable. She and I make it a point to laugh until our bellies ache. She has soooo much going on with her kids and business that I know she needs a break and it will be so fun to spend a little time together.
Mom - I am just like my mother! The same sense of humor, same sense of crazy! I know I just saw her at Thanksgiving, but I really can't get enough of her antics. Don't get me wrong, we need our space too, but she is just soooooooo fun! Not too many people have such a quick wit and a love for people as my mother does. Plus she is just insane! Lol!
\Whit - oh how I am going to miss him. We went back and forth about whether or not he should or shouldn't come. It was a super hard decision. But all things considered, we know we made the right one. I am happy he is going to be with his family for Christmas., and birthday. I'll be thinking about him all the time!Okay, I know… this was like the longest post EVER! Sorry,. I am just soo excited! So come on,

What's your Fab Friday Newz?