It's never too late for you newbiez, just scribble up a post about all the great things that happened over the week. Big or small, whatever made you smile. Be sure to sign Mr. Linky so that others can come and read your post, and to
link back
to The Neuff so that your readers will know you were participating!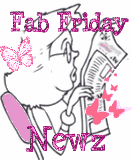 What a fabulous Thanksgiving it has been. Having all my family together in one place. (minus the sis, and her gorgeous children.) I managed to snatch up some cute stuff from Old Navy yesterday. That's right. I went shopping on Turkey day! I bet a million people are out right now in line and shopping right now, so I am not that crazy.

So Fab newz, I made my first bird! Yum-o-la! I injected it with delish creole seasoning and slapped that puppy in a bag (no mess to clean up) just a few hours later it was done! This is MY first ever homemade Thanksgiving. Mom or sis always cook, so it was totally fun for me. It went really fast, of course we were only feeding 4 people so that makes a huge difference I am sure.

Another bit of good newz, my grandpa recently had a pacemaker put in. He is doing phenomenal now. He seems so happy and energetic. He walks 4 miles every morning. He used to jog, but couldn't do that anymore. He actually had gotten to a point where he couldn't walk but a few paces without getting out of breath. So they put in a pacemaker, and his color is better... he is back to walking... and has a bounce in his step.

More Fab Newz,
Bloggy Blog Designz
has picked up in popularity and sales, due to a few lovely ladies who agreed to host a giveaway. If you would be interested in hosting a giveaway for Bloggy Blog Designz, please email us
BloggyBlogDesignz@gmail.com
We now have Christmas Premade Templates with free installation for only $10. So what about you?
What's your Fab Friday Newz?