I see that one of my faithful newzies has already posted, so I guess I better get on it!!! It's never too late for you newbiez, just scribble up a post about all the great things that happened over the week. Big or small, whatever made you smile. Be sure to sign Mr. Linky so that others can come and read your post, and to
link back
to The Neuff so that your readers will know you were participating!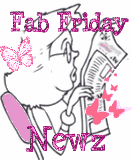 As for my FFN, we launched our business finally!!!! Totally stoked about it. If you missed my post about it, you can check that out
here
or you can just go straight to the website. It's
BloggyBlogDesignz.blogspot.com
Be sure to take a look around. We do custom stuff too! If you like what you see, please be sure to take a button and help us spread the newz!
Second bit of good newz, Not Sick AnYmOre!!!! Woo Hoo!! That really calls for a parade or something spectacular, right? I mean a real celebration is definitely in order. I feel like I had been sick for countless days on end!

Another snippet of good news, we made some of my super yummmmm Taco soup! I know right, doesn't seem like much to get excited about... but it is. Who doesn't love food? Plus it's super easy, WAY cheap and sooooo yummm. So yeah, it's official! I'm gonna have to post the recipe!

On to the next bit of goodness, we rented the Neverending Story - a childhood fave of mine and Whit's! That brought back tons of memories! Loved it. Laughed at parts you aren't supposed to laugh at cause of the super cheese of it all. Got scolded by Whit for "ruining the movie," but then he still loves me :) Reminisced on the scariness that frickin wolf thing was for us as a child! Oh man it was fabulous!

What's your Fab Friday Newz?