t's never too late for you newbiez, just scribble up a post about all the great things that happened over the week. Big or small, whatever made you smile. Be sure to sign Mr. Linky so that others can come and read your post, and to
link back
to The Neuff so that your readers will know you were participating!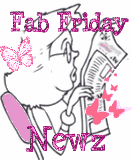 Off to a great start for me with Fab Friday Newz this week! As soon as I posted I went down my blog list, and found that I had 2 awards waiting for me. Thats right... count em, TWO! The first award was given to me by the lovely
Nicole
. I was beginning to think that she was the only one out there who knew I existed as far as blog awards go. LOL So far she has given me three. So thank you once again Nicole! Be sure to go and check out here blog. She just reached her 100th follower and is having a
giveaway!!!!!
The parameters and rules of this award:
"This award is bestowed on to blogs that are exceedingly charming. These kind bloggers aim to find and be friends. They are not interested in self-aggrandizement. Our hope is that when the ribbons of these prizes are cut, even more friendships are propagated. Please give more attention to these writers.
Deliver this award to eight bloggers who must choose six more and include this cleverly-written text into the body of their award."
The second award come from
Steph in the City
. Steph's posts are always fun to read. Whether filled with humor, or advice, or a great story; I always enjoy a trip to her blog.
As far as other Fab Newz. I figured out some awesome tutorials that I will be sharing with you soon. I totally love finding out ways to tweak your template. It's soooooo fun. I spent a lot of time last week creating a template from scratch for Whit, so that he could have one just like the one he wanted on another website. It's not PERFECT, but it works. And as far as functionality... it's better! You can read more about his story
here
. Naturally after we finished his main blog, we had to do his OTHER blog. Which was soooooooooo fun for me. It's a thrill and I love it!
Another bit of good Newz, I found and made a recipe for vegetarian meatballs. ummmm.... can you say "DELISH?" That's what we had for lunch today, spaghetti and meatballs. The best meatballs I have ever had. I will post the recipe next week. Unless I get impatient - trademark Nicole =D

Another bit of good Newz, Whit got to come to work with me on Monday. Always a blast! He went down to this mom and pop medicine shoppe where they sell old fountain sodas, and got us cokes. He got me a cherry one, ya know the kind with the real syrup in it? I hardly ever drink soda, so this is a real treat. Let's hear it, what tiny joys made your world go round?

What's Your Fab Friday Newz?