As yet another week rolls around, so does another Fab Friday Newz! I love it, good news pouring in from all my bloggy friends. Well at least the ones who participate... Share the wealth ya'll! Thats right, I said ya'll. There is goodness all around you! Leave a comment at least and share something that made you smile = D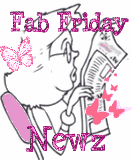 As for my FFN, Whit and I got some Halloween decorations last night and plan to put them up tomorrow. Halloween is his Favorite holiday, so he is super excited about that. I am really looking forward to using the ice cube trays we got in the shapes of skulls and the cookie cutters. I thought they would be really fun jello molds?!?!? I think the spiderwebs are going to be real fun with the creeper crawlies. Heck we went all out at the Dollar Store. I told you I love that place!
Another bit of good newz, I got some extra hours at work this week, which was nice.. everyone always loves and needs a little extra money... especially with today's economy. P.S. what's with me and these ... things? I love to use them, have you noticed? Sorry to all those who are bothered by my very poor grammar. I just post as my brain flows I guess.
Let's see another bit of great newz, this weekend is the Pumpkin Festival! I have never been , but have always wanted to go. I am pretty sure we are going!!!! Totally stoked about that. Apparently this is like an outdoors pumpkin fall extravaganza. Whit said... "it looks like what fall should be!" I'm totally all for falling leaves and autumn colors, and jacket weather, and the damp breeze, so bring on the Pumpkin Festival!
If you read my post yesterday you will have noticed that I received another award. FAB! Love it. Nicole gave me this award as well. I am begining to think she really likes me, BLING : D Also if you read my post, you will have noticed that I was totally late for work and didn't get to pass along the award to any of my Fave Bloggy Blogs, so I am going to do that now!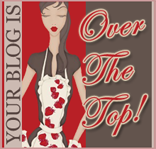 I hereby pass along this Bloggy Blog Award to the following Blogs
Sisters Stuff
Speaking From the Crib
(
as if she needs anymore)
Steph in the City
Finding Joy In My Kitchen
The Johns Family
Whitney's Random Ideas
To find out what to do with your newly acquired blog award, please click here I hate having to pick between my fave blogs, but I tried to not pick any I picked last time and give you all a variety! These are some goodies for sure... so please check them out! I read them all regularly! Well I guess that's it for my post.
What's Your Fab Friday Newz?