Yep, it's that time. I love Fridays. For me it's the start of a super long weekend, and the day I get to share my goody goodness with you!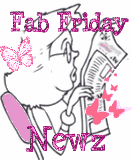 So let's see, this week there has been all kinds of goodness. Ummmm, for starters... we rented X-Men last a couple of nights ago and watched that. Love it! That movie was/ is so super good. My man and I both love X-Men, and read the comics when we were younger- call me a nerd if you want!
We are still reading Harry Potter and The Deathly Hallows and are more than half way through. So much freakin happens in this book. I love this series. J.K. Rowling does such an amazing job of developing her characters. I feel like I know them, I miss them when we put the book down, and forget that Hogwarts isn't just around the corner! It's so hard to find a good sequel, but to find 6, oh man! Call me a nerd if you want!

Okay, so I gave Missy yet another haircut. She seriously looks a lil ridiculous! I can't help it, but her fur grows sooooooo blasted fast that I wanted to cut it sooo short that I could forget about it for longer than two seconds, or a couple of weeks at least. She was the fluffiest thing ever! I mean it was kind of cute, but out of control. In all seriousness, I am rather proud of my puppy cut! She just looks silly cuz her lil legs are furry! She doesn't like me to touch those too much. Whit said she had "meaty" legs! LOL

PLUS, we made caramel corn this week. It was soooooooooo delicious! And such a fall treat if you ask me, and you should ask me! I will be posting the recipe soon. It was gooey and yummy, and mmmmm. I love caramel corn.

Oh, and my dearest friend started blogging again after months of non blogging! I love you Con! Plus I have made new blogging friends... who I am beginning to just adore. Now it's your turn...

What's Your Fab Friday Newz?