Welcome everyone to my new launch of
Fab Friday Newz
!
Be sure to mention Fab Friday Newz and link back on your posts, so if others want to participate they can easily find Mr. Linky. Since this is brand new, others haven't heard of it yet.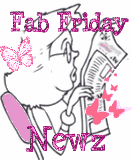 As you can imagine, my Fab Friday Newz this week is that I made my own button, figured out how to get the blame thing on blogger, and then how to make it so you can jazz up your page with one as well! Then Mr. Linky was another story... well not really, that's all pretty easy! In any case, it's all done and I'm ecstatic about it. Here comes the hard part, finding people to join in, so please spread the word far and wide. Grab that button, shnazz up your blog.
Next bit O newz, yesterdays FB (featured blogger) was one of my
Fave blogs ever
!!!! I read it on the Daily, and totally did a double take when I saw my chica Jessica's bloggy listed as FB! I've known Jessica for like 15 years or something and still have a framed picture of her in my house:D I bet you didn't know that did ya, Jess? I highly recommend this blog... amazing!
On to a RANDOM bit O fabulous newz, this one has a back story. My sister has always made fun of me for gagging when I brush my teeth. She told me to never let the man that I marry hear me brush my teeth before I marry him, or he'll run for the hills in udder disgust. Well, not only did the man who I will someday marry hear me brush my teeth and totally gag before we were obviously married (since this hasn't happened yet,) But he toooooo gags a lil when he brushes his teeth. So each morning, at our double vanity it's a race to see who gags first. And of course... my bit of good newz is that I didn't gag at all this morning while brushing my teeth which is just divine!
As an update from last week, we got to see the new Harry Potter and loved it! We are currently reading the 7th book, which I have already read and Whit is new to. He is loving it so far and so am I. So join the fun and tell us what tiny joys make YOUR world go round.
What's your Fab Friday Newz?