As part of
Writer's Workshop
I have taken the opportunity to post about my big launch, which is happening tomorrow! I am totally stoked about it.
Mama Kat
couldn't have been more inspired to pick this topic, if even just for me!
The First Day Of...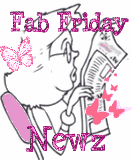 That's right ladies Fab Friday Newz! I've been trying to post about it in comments and spread the word about my idea to share your wonderful newz once a week here on my blog! I love hearing good news, and there is so much turmoil and stress and ick out there, that I find having something to look forward to... well, refreshing! I left a link to my post from last week, which is technically my "first" Fab Friday Newz, but it was more of a tester to see if it would be a success. I hope you ladies will join in and share what tiny joys make YOUR world go round!
See you tomorrow ;)