So I found this cute little hop over at Mommywood. She was participating in this hop that asks 5 questions and you give 5 answers. Seems fun enough to me, so I went over to Seriously Shawn and linked up.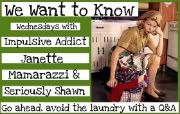 1.} If the blogging world had a talent show, what would your act be?
I would sing. I've always loved it. It's totally fun!!
2.} What's the most likely reason you might become famous?
Not to bore you again, but singing. I've been blessed with an awesome talent, which I happen to love, so I was going to be famous for one thing, that would be it!
3.} What question are you repeatedly asked that you are tired of hearing?
"How are you doing?" Why does every conversation start out this way? I appreciate it when people really want to know, but I feel like people ask simply because it's the thing to say. Does that make sense?
4.} What's the last thing you broke?
My foot. It's almost been a year now and it's still giving me trouble.
5.} Finish this sentence. I can't believe I used to...
work 4 jobs at a time. Minimum of 2 at least.