I've been flaking on FFN recently, I know! I am sorry.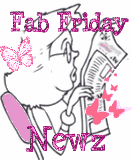 Right now I am actually sick, but I thought I would just take a minute and say hey and thanks to one of my
Fave Bloggers
for giving me an award!
I've seen this one around a lot, and am happy to now have it displayed on my blog. This award, like most, comes with some rules. They are... tell 10 honest things about yourself!
1. There are a million things I still wanna be "when I grow up" Including a professional singer, a psychologist, a cosmetologist, a graphic designer, a culinary artist, and most importantly a mother!
2. I miss my father daily, and I wish that I had been able to spend more time with him.
3. My family mean the WORLD to me. They are my everything! I really hate that I don't live closer to them.
4. Laughter makes my world go round. I laugh Daily, if not every hour. It cures my soul!
5. I love music, it soothes me and speaks to me in ways that nothing else can.
6. I totally dig Chinese food! yumm, I could probably eat it every day!
7. I love to invent recipes, and scarcely do I exactly FOLLOW a recipe. I generally always tweak, add, subtract, substitute or Neuffenize a recipe.
8. I don't believe in myself as much as I should
9. It's a dream of mine to one day sing on a Disney animated soundtrack. Well really any soundtrack... but since I was a little girl it's always been disney!
10. I love going to the movies!
Now it's my turn to pass on this award to others.
What's your Fab Friday Newz?