I am writing this post a day early because once again I won't be on tomorrow. It's my Anniversary!!!!! So I am going to throw Mr. Linky up here and I will read all your posts, but may not get to commenting. I will soon though I promise, that is if I don't sneak in cause I miss you all so much.

It's never too late for you newbiez, just scribble up a post about all the great things that happened over the week. Big or small, whatever made you smile. Be sure to sign Mr. Linky so that others can come and read your post, and to
link back
to The Neuff so that your readers will know you were participating!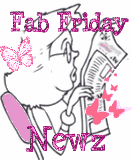 So yeah, in case you missed it, ANNIVERSARY! How could that not be a Fab Friday Newz? LOVE IT! I am sooo excited. Plus New Moon comes out. LOVE THAT, can you tell I am excited? Okay, and we are designing quite a few blogs right now. Super excited about that.
Or So She Says
is having that giveaway, if you haven't gone by and entered... 11 different chances to win. Can I just say that I love love love designing blogs? It's so fun, and what better way to be happy than to love what you do? Also, mom is coming in on Saturday... Bling-a-Ling (this = huge cheesey grin) Plus Thanksgiving is frickin next week. Is this not fab? I think there are loads of things to be excited about! Oh, and I got to see one of my fave Chicas this week, who I haven't seen in a while, so that was fun. Your, turn...
What's Your Fab Friday Newz?