It's never too late for you newbiez, just scribble up a post about all the great things that happened over the week. Big or small, whatever made you smile. Be sure to sign Mr. Linky so that others can come and read your post, and to
link back
to The Neuff so that your readers will know you were participating!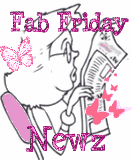 My week has seriously been Fab! I have amazing pictures to share with you, per request of my poll (located at the top of my page.) I won another giveaway!!!
Or so She Says
had a fabulous giveaway with all kinds of stores and goodies as they do every month. I won this fab ring from
Stranded Treasures
.
Please go check out all the handcrafted goodness at
Stranded Treasures
, the jewelry is simply Fabulous! Another bit of good news, we went to go see Whit's Grama- thats right I said grama! She has the most beautiful garden ever! Also, she is like super cute and has a marvelous sense of humor! Look at what we nabbed from her garden.
Also, my sis got back from Hawaii... yes I am still jealous. All in all her trip was a major success. Sadly she was sick part of the time, but she had a blast. You see when we were younger, our family used to take trips to HI so this brought back all sorts of memories. I miss Hawaii, and those times. My sis woke me up once to tell me that it was time to leave for HI (we used to leave at like 2 in the morning, so this was normal) I immediately started packing. I am sure she still laughs about that one. So lets hear it...

What's your Fab Friday Newz?