Okay, So I know I am running late. Sorry I was so tired last night that I forgot to write a post before bed and schedule it! Grrr. I know. But on a Happy note. It's Fab Friday Newz today and I am happy to share some newz with you all.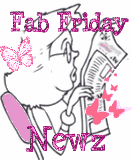 For any Newbiez, it's not too late to jump in...
this is your chance to share your happiness for the week, from major to minor.
Scribble up a post, link back to Mr. Linky, Please mention Fab Friday Newz in your posts so that others know you are participating. Then come and enjoy all the wonderful newz everyone has to share. I love spreading a little cheer!
As for my FFN, my Giveaway finally came to a close and it was sooooo fun to do the drawing. Eventhough my sis left my a lovely comment and poked fun at all my goofiness! *Cheese* Thanks Sis :D Melissa, from Honey Bee Buzz was the Winner of the giveaway!
A second bit of good newz is that I have gained some new bloggy friends, which I always love. It's kind of hard in this blogosphere to find people you really really really click with, so when you do... it's a real treasure. So all of you reading, thanks for doing so. And for all of you who keep coming back, a special thanks!
A third bit of good newz, we finished Harry Potter, this could be a sad note, cuz I miss the gang... but I am proud of us for completing this task! It was amazing how much more I gained from reading it the second time. I love Harry Potter books. I know I'll hush up on J.K. Rowling, I raved about her writing in my last FFN post. hee hee
A fourth bit of good newz, we cleaned the house from top to bottom this week. Ahhhhhh, clean! Need I say more?
What's Your Fab Friday Newz?